Hear About The Hope. Support Us In Assisting Amputees.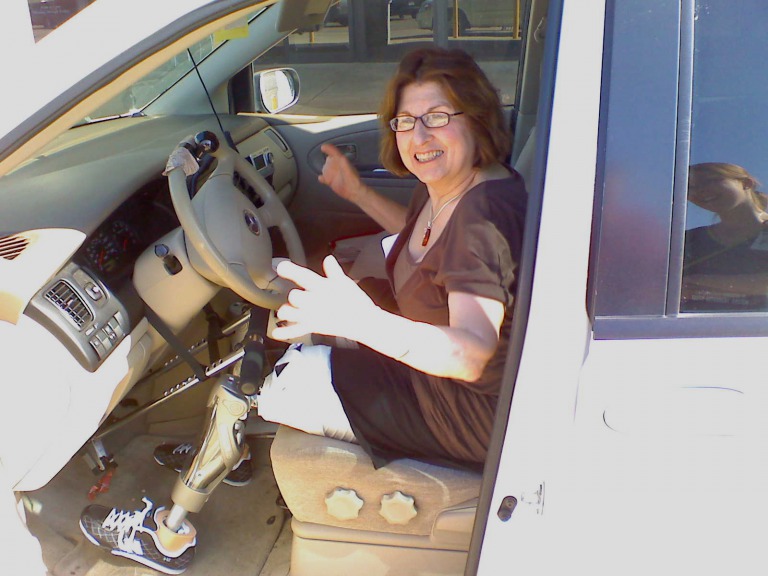 Kathie was preparing to celebrate her and her husband David's wedding anniversary soon with a nice cruise, but became ill with what felt like the flu.
As she became worse with delirium, she was rushed to the ER to undergo a brain scan for encephalitis. Infectious disease doctors were treating her as gravely ill, ultimately diagnosing her with meningococcal septicemia. That doctor said he had seen 47 cases of this in India, and everyone had died, usually within a day.
Kathie was very active and athletic. She was running 6 miles at a time, had run a lot of 10ks, played soccer at work, and played tennis. She had also recently been in to a salon to have her nails done, and she thinks this is where she contracted the illness, because people were there who had been to Southeast Asia for a month. As she grew worse, doctors warned there was half of 1 percent chance of living, and yet her husband believed in Kathie to fight with those odds.
With help from friends, family, church, Catholic Charities and community, meals and extra visits of prayers from their rabbi, she lived in the ICU for 2 weeks. Her husband stretched himself to keep his executive position that provided her insurance while being with her as she fought for her life. She was going to live, but developed gangrene, necrosis on her toes, feet and hands. Gangrene was eating her alive, which led to the decision to amputate her legs and some fingers.
With nurses wound care, going to Lubbock for burn unit skin care, and Houston for TIRR's amputee clinic, she was determined to recover. She began the life-changing and ongoing process using stubbies for a month, C-legs, a knee joint not typically added to the prosthetics, and working with a prosthetist to develop an ankle for walking heel to toe.
She not only appreciates life, but also her devoted husband who stays by her side as a caregiver and married partner. Their 2 sons also supported her even as they were upperclassmen in high school at the time.
"I hope our story inspires others. Unbeknownst to me, they only gave me a year to live. Worry is not good for you. What makes me different than most is when people say, where do you want to be? I want to get out of bed tomorrow, and I want to try again. I went through cancer, I tore my rotator cuff twice; I'm much more cautious about falling. I just don't want to break anything. I've always wanted to just do what I can do. I do the laundry at home, I help with cooking, I help as much as I can. I don't want to sit around. I even get out and volunteer with the elderly. I get up and do what I can. I'm a very independent person. "